Types of Salon Capes and How to Choose One?
02/09/21
Salon cape is a drape that protects the client when they are having a haircut or other salon services....
Read More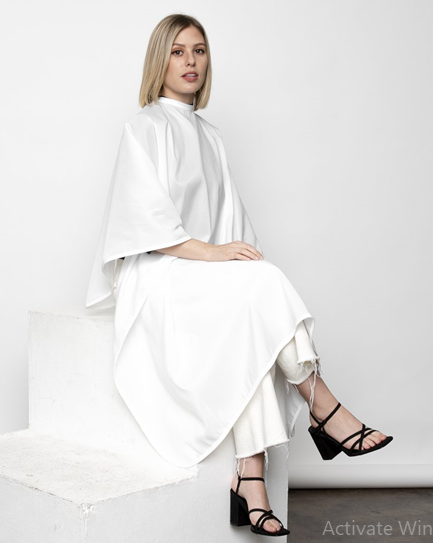 02/09/21

IMAGE CREDITS  Salon towels are an essential that you can't go wrong with.  

02/09/21

Salon cape is a drape that protects the client when they are having a haircut or other salon services....

01/09/21

Client robes are a wonderful way to treat your customers well. A well meaning salon will leave no...

01/09/21

Running a salon is definitely not easy. Managing expenses can be troublesome. The constant purchasing of products doesn't...

08/06/21

Satisfied salon clients would mean a reliable stream of income & a more relaxed salon CEO — well that's you....

08/06/21

  Many workplaces in the last decade have adopted a staff uniform with brand logo...

27/04/21

Besides the tourism industry, one sector which has drastically impacted during the pandemic is hair salon & beauty. The...

27/04/21

Client retention rate is an important aspect when running a salon and spa business. Both small or large-scale...

30/12/20

Do you know there are about 967,013 hair salon businesses in the US? This figure is increasing with each passing year and is representing the growing popularity of iconic...

30/12/20

From creating a brand identity to representing your business, making you feel comfortable, and a lot more, salon wear is one of the reasons behind a successful running beauty...

02/12/20

Feel comfortable and look sophisticated; salon aprons are tailored in line with the role of hairstylists and beauty care specialists....

02/12/20

A bespoke salon uniform adds a level of professionalism and presents your hair & beauty salon for...

04/11/20

Introduction Whether you are in the planning phase of opening a hair and beauty salon or looking for new...

04/11/20

Introduction Over years, salon apparel has undergone change. Once used just as a staff uniform, it acts as...

07/10/20

The prospect for a beauty or hair salon always looks impressive in the first place. The...

07/10/20

Ever wondered why a business logo is such an indispensable element of branding? It grabs instant attention,...

03/09/20

How did the thought of having a salon uniform hit your mind in the first place?  Possibly your hairstylist staff have a sloppy appearance, and you are looking...

03/09/20

Opening a salon requires a lot more effort, dedication & attention to what most entrepreneurs can think of.  Beauty and hair salons are a highly competitive market. New...

08/08/20

A successful beauty salon is centered on the clients, pampering them with professional services and treatments that make them feel special. But, at the same time, ensuring a...

08/08/20

Just a year or more back, you invested money in renovating your hair salon, but the fittings and features with time look shabby and worn out.  07/08/20

Yes, the beauty industry has its fair share of perks, and every hairdresser deserves appreciation, but there are myriad challenges...

11/07/20

Every business, whether it's big or small, needs a vibrant online presence to attract more customers and flourish in the market.  As per a recent...

11/07/20

What fuels the growth trajectory of your salon? Well, it is definitely good customer experience that transforms the fortunes of any such business.  According to a...

06/07/20

You probably come across a stylish, elegant appealing beauty salon ambiance ruined by their sloppy, dressed stylists and beauticians?  06/07/20

"Fashion is a tool...to compete in life outside the home. People like you better, without knowing why, because people always react well to a person they like the...